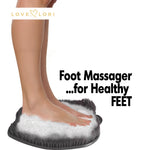 How often do you gush over the softness of a baby's feet? It's no secret that everybody loves touching smooth, clean feet. Having said that, we know that the constant walking, barefoot or with shoes, wears down that smoothness. We walk on all sorts of grounds with different impurities and textures. As a result, the skin on our feet gradually becomes cracked. The texture becomes rough and untidy.
In fact, sometimes the damage is so severe that this cracked texture becomes a permanent feat of our feet. These are unpleasant to watch and feel. You can't rub your soles against anything because they don't feel smooth or relaxing at all. 
So how do you get back your feathery soft baby feet? Of course, you can't go back to being a baby! But you can remove the dead, cracked, and damaged skin from your feet. And for that, there's nothing as amazing as the Shower Foot Massager, Scrubber & Cleaner by Love, Lori. 
Why Should You Use a Foot Massager?
Just like your brain, your feet are neurologically connected to each part of your body. With a nice, healthy massage for foot, you get to enhance a number of activities and processes carried out in your body. Healthy and massaged feet ensure health and activeness in other areas of your body as well. 
Massaging your foot calf and leg also relieves you of foot pain as well as nerve pain. Doing massage therapy with a foot spa or massage rollers helps to massage the feet and gets rid of the aching. You can use handheld massagers, leg massagers, or calf massagers to soothe the pain in your foot and calf. 
A spa massager or an electric massage is also necessary when you have tired feet. You could be back from a trip, or from the gym, or you had a long day at work. Foot spas using different massage modes can alleviate the tiredness from your sore feet. Whether you use electric foot massagers or go for a dual foot massager, a massage will do wonders for your aching foot and calf.
How Should You Use a Foot Massager? 
From a massager roller to a foot massaging machine, there are many ways you can massage your feet. The Love, Lori Shower Foot Massager, allows some of the easiest methods to get a cathartic foot massage right at home. Normally, people go to professionals to get the best massage experience. However, there are now top-rated foot massagers that excel in giving you expert quality foot and calf massage right at home. You can choose a deep kneading massage pad, dual foot massage roller, or even a foot massaging machine. The options you have may vary, but the main purpose is the same. To give your feet the care they deserve.
You can use foot massagers on dry feet when you're lounging, snacking, or reading a book. Other massagers, such as Love, Lori Shower Massager, is better used while you're showering. However, it's best to clean your feet before massaging to clear away any debris that could ruin the massage heads. 
Now, your feet are ready for the massage. Get your massager and start rubbing or rolling your soles against the spiky massage heads. It'll sting for the first few minutes, but you'll gradually adjust to the sensation.
If you prefer electric foot massagers such as the triple action Shiatsu foot massager, you can skip the rolling part. An electric massage massages your feet using its built-in sensors, so all you need to do is place your feet on the massaging machine. In many massaging products, you can also activate the optional heat using heat settings. The remote-controlled pressure setting and soothing heat are great for your feet. The heating foot is especially very relaxing when your feet are tired or hurting.
It's also recommended to rub a bit of foot cream on the massage pad or on your own feet. You can also try Vaseline, gels, lotions, or oils instead of creams. This will lubricate the spikes and make the massage more relaxing for you. 
What are the Different Types of Foot Massagers?
Coming to another important question: what are your different options and products of choice when it comes to foot massagers? Well, there are two primary categories in which we divide foot massagers. These are:
Manual Massagers
A manual foot massager has spiky massage heads on its massaging surface. You can use these for a regular massage as well as for foot scrubbing or pain relief. Using a manual massager means you need to move your feet across the massage pad in order to massage them. These spikes gently clean the soles, the toes, and the gaps between your toes.
You can use manual massagers wherever you are. In the office, at the gym, the pool, or at your own home. They're also flexible, so you can fold them and carry with you wherever you go. However, not all of us are comfortable with manual massages. They can be time-consuming and even painful for some people. But if you want some good scrubbing and clear away dead skin, then a manual massager is the best.
Manual massagers are available in the form of rollers as well as mats. You can also grease them with your favorite foot care products for extra hygiene. 
Electric Massagers
Another option that many people prefer over the manual ones is electric massagers. These massagers make their magic using their vibratory sensors and are extremely relaxing. If you're not in the mood to rub your feet over spikes, you can probably look for an electric massager.
Electric massagers also have heat options to give you the best and most soothing sensations. These are a less painful option for those who want to avoid manual massagers. However, these don't really help with scrubbing away the dead skin on your feet, so that might be a problem.
Moreover, electric massagers also come with a bit of load on your electricity bills. These can't be used in showers or anywhere near water. If you don't have access to electric power, they're completely useless. Still, if you manage to avoid these scenarios, you'll definitely enjoy treating your feet with electric massages. 
_____________________
RELATED: Shop Massagers!


_____________________
How Often Should You Use the Love, Lori Shower Foot Massager?
As often as you want to! Foot massagers are an excellent way to keep your feet healthy and your body active. You can use it for around 15 minutes each day. You should use it for massage, scrubbing, and cleansing daily, since it helps smoothen your feet. If you have foot pain or cracked skin, you may use it more often and for longer durations. However, try not to use it for too long, or else you may end up with aching feet. 
What are the Benefits of Love, Lori Shower Foot Massager?
The Love, Lori Shower Foot Massager, Scrubber & Cleaner is packed with awesome benefits for your health, hygiene, and lifestyle. Here's how using a foot massager can benefit you:
It Relieves Pain
When you're feeling exhausted after a tiring day, there's really not much energy left to book a spa appointment, right? A foot massager is the best way to relax sore feet right at home. Just place your massaging pad on the floor and massage your feet without much effort.
Moreover, you can also use a manual massager in the shower to make your bathing even more relaxing. Squirt some liquid soap on the pad to cleanse your feet while massaging them.
It Improves Blood Circulation
Massaging your feet also helps in improving blood circulation throughout the body. Massaging your feet reduces stress in your body and, therefore, also helps your heart in pumping blood easily. This keeps your blood pressure stable and maintains the quality of blood as well.
It Uplifts Your Mood
Massaging your feet releases endorphins that are in charge of your positive mood. If you have a big day ahead of you, then massaging for a while can definitely help with a happy mood. If you've had a tiring day at work, you can massage to let go of all discomfort and tiring thoughts. In short, a foot massager is an essential part of your me-time.
It Controls Stress and Anxiety Levels
Foot massaging is a key technique for balancing cortisol levels in your body. If you have issues with anxiety and take too much stress, a foot massage can make you forget all unnecessary worries. This has profound benefits on your mental as well as physical health. Foot massage also gets rid of stress in order to allow you to live a healthier social life. 
It Minimizes Neurological Disconnection
As you read above, each part of your body is connected to your feet' neurological junction. Massaging your feet is a great way to keep these pathways active and well-connected to your brain. This helps to enhance neurological activity and leaves you feeling light and at ease.
It Maintains Balance
Massaging your feet is also essential if you want to maintain a healthy feet balance. The massaging improves your sensation and helps you stand more firmly on the ground.
It's Good for Those Who Can't Walk
People on wheelchairs and those who are bedridden, often lose all sense from their feet. To prevent the numbness and paralysis, foot massages play a crucial role. These provide sufficient pressure to the feet in order to keep them active and healthy. Those who are recovering from injuries on their legs also make great use of foot massagers. 
It's a Natural Exfoliator
A foot massager is one of the easiest ways to get all the dead skin cells off your feet. You can rub your wet feet directly on the massage pad or use a scrub if you like. The spiky surface will scrape away all the built-up dirt, bacteria, and dead skin from your soles. This will reveal the new skin underneath and soften your feet' overall look and feel. You'll get your healthy, soft baby feet back!
It Doesn't Let the Fungus Ruin Your Feet
Foot fungal infections are common in those who have cracked, poor hygiene feet. The fungus grows on your skin, and bacteria thrive in the dirty, murky crevices of your dead skin. Pretty disgusting, right? Massaging your foot is the best way to avoid fungus or bacteria from settling on your feet. This will improve your hygiene as well as health.
It Gets Rid of Bad Smell
Sweat and germs are the two main reasons your feet smell like hideous. After all, there's nothing really funny about having smelly socks and feet that reek with bad odor. Massaging with a nice essential oil, body soap, cream, or scrub can remove odor-causing agents. These also end the stink and leave your feet smelling much better. Lavender, rose, shea butter, cocoa are some fantastic smells for your foot massage.
It Helps to Tone Down Nausea and Vomiting
Motion sickness and stress often end up with imbalanced body motion. This causes mild or even severe nausea, which leads to further sickness and fatigue. Massaging your feet is a guaranteed way to avoid nauseous feelings. It improves your body balance and relieves minor aches to tone down thoughts of nausea as well.
It Helps With Insomnia
Like a warm, hot shower, foot massage also helps in relaxing your body to prepare you for a night of healthy sleep. Relaxing your feet through a massage relieves pain, soreness, stress, anxiety, bad mood, and nausea in order to help you sleep soundly.
It Relieves Muscle Soreness and Joint Pain
Foot massaging is capable of relieving even the sorest leg muscles and tendons. The massaging heads gently rub against your muscles and tissues to ease the tension and knead them softly. Not only this, but a hot shower paired with a foot massage is also great for getting rid of joint pain. 
It Boosts Your Self Confidence
What's the connection of a foot massage with your personality traits? It's simple. Having good looking feet is a major confidence booster for everybody. While you feel awkward and ashamed of revealing your cracked, rough soles, having soft, fragrant feet has the opposite effect. You can wear heels, sandals, go to pool parties, and attend sleepovers without hiding your feet from public sight!
Conclusion
Foot massage therapy is an ancient therapy. It has been used for pain relief purposes as well as for medical benefits. In fact, foot massage is also quite similar to acupressure therapy. It has numerous benefits for your body and is an excellent means of improving your mental and physical wellbeing.
The Love, Lori Shower Foot Massager, Scrubber & Cleaner is one of the most efficient and effective options out there. It helps in scrubbing away dead skin that's prone to infectious diseases. It boosts your mood and curbs mental discomfort as well.
Due to our busy lifestyles, our feet suffer more than we realize. Luckily, massaging feet is an excellent way to give yourself a complete lifestyle therapy.
Shop Love-Lori today to find the BEST in Foot Care!❤️❤️❤️
References
https://www.webmd.com/balance/foot-massage-health-benefits
https://www.foot.com/7-benefits-foot-massage-reflexology/
https://www.lifehack.org/articles/lifestyle/9-unexpected-benefits-foot-massage-that-make-you-want-have-one-now.html
https://www.jenreviews.com/foot-massage/
https://www.google.com/amp/s/criticsrant.com/what-are-the-types-of-foot-massagers/amp/